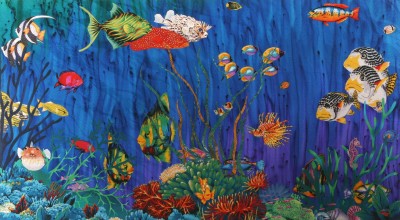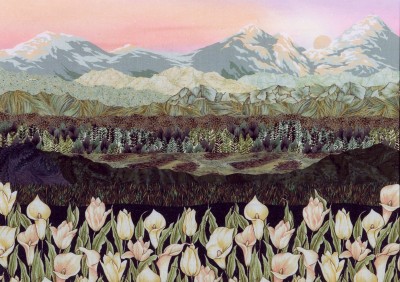 Welcome to my colorful world of Fabric Decollage!

I'm Debbie Jones, from Albuquerque, New Mexico.


Fabric Decollage is an original technique that's a cross between collage and decoupage, created by bonding many fabrics together in layers. Almost every kind of fabric can be found in these decollages, including commercially available and hand-painted pieces, ranging from cottons and silks to ultrasuede and metallics. 

Sometimes I start with a single piece of fabric that inspires me and then build a collage around it. More often, I start with a color scheme in mind and then choose various fabrics, cutting them in a free-form manner and building the layers as I go, envisioning landscapes or underwater seascapes or even perhaps a "dreamscape".  Each decollage is one-of-a-kind.

Once the fabrics are glued in layers, the finished artwork is then placed in a large press that applies high pressure and heat to flatten and bond it to a sturdy, acid-free surface. The result is two-dimensional artwork that resembles a painting -- a "fabric painting"!  Most of them are matted and framed, although they can be quilted rather than being mounted and framed. This is a unique way of working with fabric that I've developed over the past fifteen years, after injuries from an auto accident left me unable to machine quilt for a long time.

Please take a look around to see examples of this distinctive art form and let me know if you're interested in purchasing my work or commissioning me for a custom design. Your comments would be most welcome.

Thanks for stopping by my website -- I hope you enjoy your visit!


Debbie

"Consider the Lilies"              Fabric Landscape               25"x31"

"Enchanted Ocean"               Fabric Seascape                19"x30"

News:

Classes in Albuquerque & Santa Fe!

Landscape, Suedes, Cards & Ornament Classes are coming up soon at Southwest Decoratives in Albuquerque in October. Also, I'll be teaching Ornament, Landscape, & Butterfly Garden Classes at Santa Fe Quilting in November and December. 
Click here
for details about these fun classes where you can make one-of-a-kind projects in just one day!
Fine Art Show in Corrales

If you're in the area during Balloon Fiesta, please come to Corrales to see the 26th Annual Fine Arts Show, featuring fine art in various media, including one of my fabric decollages.
Click here
and scroll down for more info about this beautiful juried show. There is a reception on Friday, Oct. 3rd. Please join us!
Facebook

I'm on Facebook, and hope to be friends with you there! It's a great way to keep in touch and get the very latest up-to-the-minute news. Just click the link at the top of this page, or here:

Lots more fun things are in the planning stages! Please check back soon for the latest updates.

All content and images on this website are

copyrighted by Debbie Jones, 2005-2014.

All rights reserved.

Please do not copy any content or use these images

in any way, unless you have first obtained

written permission from Debbie. 

Thank you.

~~~ For the latest news, please scroll down. ~~~

Debbie Jones

PO Box 16681

Albuquerque, NM 87191

phone: 505-323-3835

Here are a couple of my latest projects,

Fabric Decollage Cards & Jewelry!

Fabric Decollage Jewelry;

pin can also be worn as a pendant or displayed as an art piece.

This is a close-up of my recent

wallhanging.

Click here to see the whole piece and more close-ups (or click on Art, then Butterflies for the link to the Butterfly Garden Page).